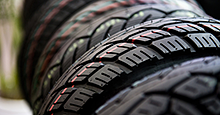 The term "all-weather tire" gives drivers a vision of something that handles road conditions in any kind of weather.
Tires, like vehicles, are designed for specific uses. How do you know if choosing an "all-weather" tire—also known as an "all-season" tire—is the best solution for your driving style and conditions?
"There are many areas of the continent where all-season tires perform well," said Robert Abram, product planning manager at Yokohama Tires. "If you see a lot of snow into deep spring, then winter tires may be a better choice."
Or if you drive a high performance vehicle, summer tires may be a better choice to help improve traction and handling. 
According to Abram, all-weather tires are intended for drivers looking for long tread life and good traction in most weather conditions such as rain, cool weather and summer roads. They are not designed for harsh climates that have extended periods of subfreezing weather such as Canada or rural Nebraska. 
"There are varying degrees of how tires respond in different weather," said Robert Abram, product planning manager at Yokohama Tires.  "Drivers need to take stock in what their road conditions are really like," Abram said. 
As an example, drivers in Los Angeles face mild temperatures year round. All-weather tires handle the area's cool spring rains and warmer summer roads.
In contrast, drivers in New England encountered six months of freezing temperatures. Winter tires may offer a better, safer choice for icy road conditions encountered long into spring.
How well streets are kept clear also makes a difference, Abram said. City drivers in Chicago may be able to use an all-weather tire in winter or summer since plows operate quickly during storms.
"All-season tires are not going to be appropriate in a blizzard but there are a lot of weather conditions where they perform fine," Abram said.
Abram admitted selecting the right tire for your vehicle and driving conditions presents a mind-boggling number of choices. 
"There are lot of tire products and they perform in a lot of different ways," Abram said. "The tricky part is weeding through it all. One of the best things to do is ask your tire specialist a lot of questions."
Here is Abram's list of questions when choosing an all-weather or specialized tire:
Want long life and a comfortable ride? All-season tires are designed to provide good tread wear while providing a safe tire for all-purpose use in family vehicles.
Looking for great traction on summer roads? The softer the rubber compounds of summer tires are a good choice for high performance vehicles and sports sedans. 
Live in an area where winter lasts six or more months of the year? Consider winter tires for excellent grip in freezing temperatures.
What are your personal driving requirements? Someone who uses their vehicle infrequently on city streets may want all-season treads whereas someone who travels country roads may want mud and snow tires.
Ask your tire specialist about the six important trade-offs in tire selection: grip, tread life, fuel economy, comfort, safety and price.
"Most new vehicles are outfitted with all-weather tires from the manufacturer," Abram said.