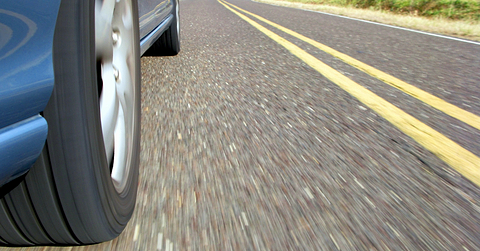 They are known as summer tires or ultra high-performance tires--and they are an effective way to increase your car's traction in dry weather and handle faster speeds. 
There's no industry standard for what constitutes a summer tire, according to Rubber Manufacturers Association, but they commonly wick away moisture, grip the road well and are softer than tires formulated for cold weather driving.
"Summer tires tend to be engineered for high speed," said Daniel Zielinski of the Rubber Manufacturers Association. "They aren't necessary built for hot weather but for heat, and speed creates heat in a tire."
National Tire Safety Week falls in June, and the Rubber Manufacturers Association is using the opportunity to remind motorists that no matter what tires they have, they need to be inflated to the proper pressure. The ideal pressure can be found on the inside of the driver's side door and should be checked monthly.
Summer tires tend to wear out faster than all-season tires, Zielinski said. Their trade-off is superior grip, acceleration and braking in dry conditions. 
Their ability comes from their composition. Summer tires are crafted from softer rubber and feature wide grooves to help disperse water and prevent hydroplaning. 
The engineering that makes the tires such a great choice in the summer is exactly what makes them less than ideal in cold weather.  Soft rubber compounds that make summer tires malleable in the heat are exactly what makes them more rigid in cold weather.
"Summer tires are not designed for winter weather and will not respond or perform as well once temperatures dip below 45 degrees," Zielinski said. 
All-season and ultra high-performance tires sometimes are designed directionally, meaning they are manufactured to turn or roll in one direction and can only be installed on one side. They are only mandatory when the vehicle's manufacturer recommends them, he said.
Zielinski had the following recommendations for drivers looking to purchase summer tires:
Improve grip by using tires designed for high-performance driving. These types of tires are usually known as summer tires or ultra-high performance tires.
Choose a tire that meets your driving requirements. Summer tires typically have a softer composition, low-profile and wider treads. There are no industry standards when it comes to summer tires--every manufacturer has its own definition and specifications.
Drive carefully when using summer tires if encountering wet, slick or frosty roads. The compounds and tire construction are designed for dry conditions.
Expect your summer tires to have a shorter lifespan than an all-season tread. Softer rubber found in summer tires makes for better grip, yet it reduces tread life.
Find out if you have directional tires, which feature treads designed to only roll in a specific direction. Only replace directional tires with directional tires.